BAKED CAJUN CHICKEN BREASTS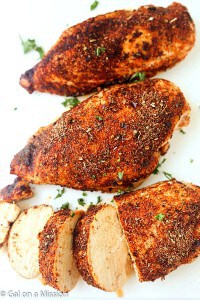 Author: Chelsea @ Gal on a Mission
1 teaspoon salt
½ teaspoon cayenne pepper
¼ teaspoon crushed red peppers
1 teaspoon garlic powder
1 teaspoon paprika
½ teaspoon pepper
½ teaspoon onion powder
½ teaspoon dried oregano
½ teaspoon dried thyme
3 large chicken breasts or 6 small chicken breasts
Preheat oven to 450 degrees. Grease an 8×8 baking sheet or dish. Set aside.
Mix together the salt, cayenne pepper, crushed red peppers, garlic powder, paprika, pepper, onion powder, dried oregano, and dried thyme in a small ramekin.
Rub the spice mix onto the chicken breasts.
Bake for 18 minutes. Remove the chicken breasts from the oven and cover with aluminum foil and bake for another 5 minutes.